As Group Director of Corporate Communications at SMG Swiss Marketplace Group, Switzerland's new pioneering network of online marketplaces, one of my responsibilities is not only to lead my team and help guide them in the right strategic direction in alignment with company objectives but to articulate who we are and what we do as a department to all our stakeholders.

As a new team, it was important for us to communicate our goals and also to state "we have arrived", and remind ourselves what makes us "tick". A good analogy might be to plant a flag in the ground.

One of the ways I chose to do this from an internal standpoint was by creating our own Corporate Communications Manifesto.


What Is a manifesto?

Usually, a manifesto is a public declaration of policy and is often used as a political instrument. A manifesto, in corporate terms, is similar in as much as it's a document that articulates what we stand for and where we are going, a North Star to help guide us, or a statement of intent if you prefer. In this case, the manifesto we created is an internal document, but I am sharing ours here for the benefit of other communications professionals and those interested.

A manifesto, though similar, is not a mission statement. A manifesto is more of a rallying cry of bold intent, something that is emotive that can't help but keep you on the right path. It helps, well, "manifest(o)" our goals into being.

Due to its nature and to act as a helpful aide-memoire, I thought our manifesto would be best communicated as an acronym. The acronym I chose, which was the most fitting for what we do, was CROSS-TELL.

Note: Some companies also have corporate and brand manifestos that they share publicly as the target audience is the public. Among other things, manifestos can state your purpose and compel others as to why people should care about your brand.


The Art of the CROSS-TELL

I wrote about the Art of the Cross-Tell in my LinkedIn article here. In short, cross-telling is the art of sharing cross-vertical (or cross-business unit) media stories that tap into the full communications power of our entire brand portfolio. This way, we leverage the brand reputation of our more well-known brands to promote or showcase other, frequently (but not exclusively) lower profile portfolio assets while at the same time providing value to the media and valuable insights to the reader.

While Scout24 has since merged into SMG Swiss Group Marketplace, the spirit of the article still stands, and, as a marketplace with fifteen brands, cross-telling is an even more critical part now of what we, as a team, do.

What's more, we also "cross-tell" internally by providing a clear and effective flow of internal communications to boost culture, inspire innovation and strengthen cohesion amongst staff working in different areas of our brand universe.


Internal and External

Corporate Communications cover both internal and extremal communications, so our manifesto needed to cover both aspects.

Our guiding statements are as follows:

INTERNAL – Facilitate effective and engaging communications across the entire organisation that support and strengthen company culture, promote common goals, and enhance cross-business unit cohesion.


EXTERNAL – Share cross-business unit media stories that, in addition to the brand stories, tap into the full communications power of the entire brand portfolio to activate our ultimate audience: our customers and consumers. Build and nurture relationships with our broad collection of stakeholders that elevate our brand reputation.


The Manifesto

I wanted to ensure that each component of the manifesto could be used together and as a powerful stand-alone statement. Our manifesto is as follows:

C – Communicate

We communicate, collaborate, interact and connect the dots within the company ecosystem to facilitate transparent information and highly accessible knowledge-sharing. We provide credible contextual communication to all stakeholders and foster a favourable employer brand impression.

R – Relationship

We build, grow and nurture good relationships, network and strive to create a rapport with all stakeholders to enhance our company's reputation.

O – Ownership

We take ownership of corporate communications to boost culture, inspire innovation, provide a clear flow of communications throughout the organisation, and promote positive external brand awareness.

S – Story

We tell stories that connect. We leverage key insights from our house of brands and competence network to provide meaningful expert or data-rich stories to generate valuable media coverage for all stakeholders.

S – Strategy

We create, develop and implement effective communication strategies that are mindful of sustainable solutions which generate positive results and support business objectives.

T – Target

We enable, initiate, and articulate targeted messages for our audiences. We test to see what works, iterate and innovate.

E – Engage

We love to engage with all stakeholders. We actively reach out and always respond to queries to elevate a positive company reputation and brand association. Long-lasting relationships matter to us.

L – Language

Language matters. We use adequate, respectful, culturally sensitive, and inclusive language. We are tactful, authentic, and considerate at all times.

L – Listen

We are committed to growth and learning. We actively listen and create space to learn from insights and feedback to adapt and improve continuously.


Should You Craft a Manifesto?

Whether you have an internal manifesto or not will depend on your organisation's specific circumstances and size, among other factors. But either way, some guide to help your team as well as to help them articulate to others or act as a reference point will never go amiss.

When you craft a manifesto, there are three main things that I kept in mind that hopefully will be of use to you too:

Your why – why does your organisation or brand exist?
Your audience – keep them in the story where possible – always keep the end audience in mind
Your benefits – how you help improve your stakeholder's or customer's lives
I believe that if you keep the above points in mind, your manifesto should encapsulate the fundamental essence of what you do and why you do it. For us, it's certainly a handy reference point, as well as something new team members can be provided with to help them get into the spirit of who we are, what we do, and unite us as a team.

I want to take this opportunity to thank my communications team at SMG Swiss Marketplace Group who live our "why" every day. Thank you to Sebastian Sinemus, Nathalie Heim, Fabian Korn, Artur Zazo, Mojca Fuks, Nina Zanetti, Davide Bruno and Laura Gandola.
Our Expert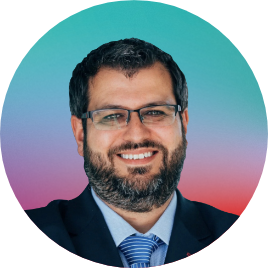 Daniel de Carvalho is Group Director of Corporate Communications at SMG Swiss Marketplace Group, where he fulfils the primary communications role in the group's merger process and Change Communications. LinkedIn