Take your home, for example; you can decide on the water temperature when you wash your clothes, how many lights you turn on, and if you're going to crank up the central heating. However, all of these things might be connected to one bigger question: do you know the energy label of the building you live in? 
As a renter, this is something you have little control over. As a homeowner, on the other hand, you can make changes and invest in enhancements that improve the energy label. However, depending on how low the rating was to begin with, these improvements could be extremely expensive and, therefore, in reality, unfeasible. 
Enter: The REALHouse Effect.
In this article, we are going to take a closer look at the outcome of a Real Estate hackathon and how we as a company try to create products that not only simplify people's lives but give them all the information they need to make sustainable decisions in the long run. 
Digital Company, Real-Life Impact
At SMG Swiss Marketplace Group, we offer digital solutions for real-world challenges. This creates complexity in how to make a digital company "greener". There are many streams a company can pursue to invest in a more sustainable ecosystem: There are obvious measures, such as using sustainable sources of energy as a company, shared workspaces, more mindful use of material goods, or new investment strategies for pension funds, etc. 
Sustainability is a culture of lifelong learning and adapting, and committing to set targets. However, one significant strength of a digital company that caters to a demographically diverse user base is providing its users with the necessary tools to point them to the sustainability of the products on their platforms and thus indirectly creating an incentive to invest in sustainability. That way, the reach of sustainable action is significantly increased. But is it as easy as combining marketplaces and real estate to create meaningful change? No, there are many players that need to be taken into account when trying to reach long-term goals. 
Who drives change?
On our platforms Homegate, ImmoScout24, and Acheter-Louer, users can find their future homes and make decisions based on online information. However, the Real Estate ecosystem of SMG includes a wider competence network, namely IAZI and CASASOFT. IAZI is all about providing transparency when it comes to data about properties, while CASASOFT provides real estate marketing software and, therefore, exposure to said properties.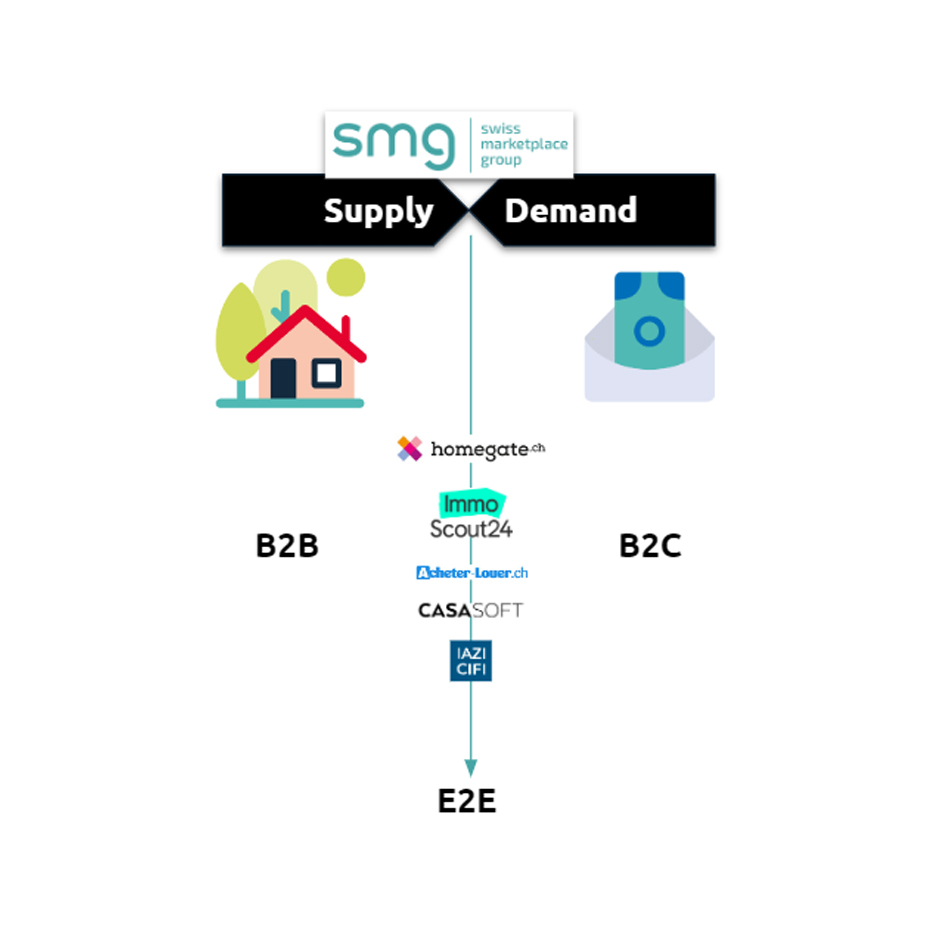 The SMG real estate ecosystem is, of course, only one part of a complex network when it comes to driving real change. Arguably the most important part is confederation-regulated standards. The government has various fields of action and different priorities when setting and implementing standards and regulations, one of them being building efficiency and renewable energies for private households. Another important player is the financial sector. Recently, the Swiss Bank Association defined its guidelines according to which banks and financial institutions need to inform their real estate clients about sustainability and energy ratings.
During the REALHouse-Effect-Hackathon – an internal initiative driven by the SMG Real Estate Business Unit – all of these factors were taken into consideration to improve our products and make sustainable decision-making more accessible to our users.
The REALHouse Effect
During hackathons, our engineers are given the opportunity to work on projects that could be implemented on our platforms in the future. This year, various hackathons took place and led to a variety of different potential product updates that could provide new features our users on our real estate platforms. Here we want to present to you two of these projects focussing on sustainability.
Electric Charging Outlets
In 2021, 13% of cars sold in Switzerland were electric cars. This is a high percentage with the ambitious goal for it to be increased to 50% by 2025. Whether or not this is possible is difficult to say, but there might be various hurdles that would stop this goal from being achieved. One of them being the charging station dilemma. People looking for a new apartment or house and who already own an electric car (or considering buying one soon) should know if their dream home has charging stations in its vicinity. Thanks to publicly accessible data on charging station locations, we were able to create a map that shows users where the closest charging station is to their home. This is considered a low-hanging fruit project since the data was already available and just had to be made more easily accessible during the user journey on our real estate platforms.
Since this project is tightly linked to mobility and not directly related to real estate, let's look at a project that circles back to the energy labels mentioned at the beginning of the article.
CO2-emission and energy labels for real estate listings
The average Swiss person produces approximately 14 tonnes of CO2-emissions per year.
Depending on your particular lifestyle, the chart below will look a bit different but this one shows the CO2-emissions of the average Swiss consumer.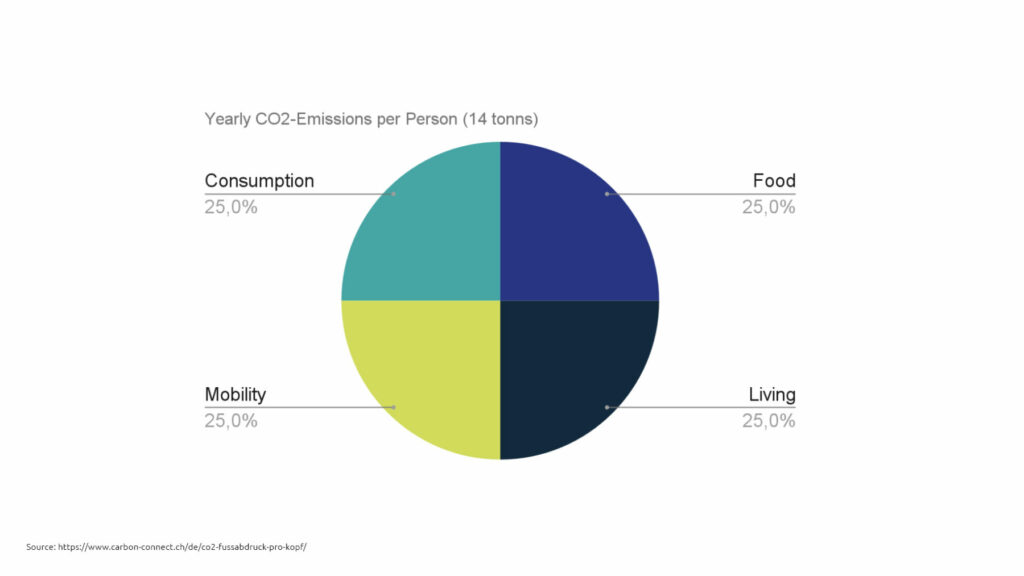 Our colleagues at the Real Estate division of SMG want to have an impact on the "Living" portion of this pie chart. They started out by analysing listings data on Homegate by running it through the sustainability service from IAZI to determine the energy label results as well as the CO2-emissions caused for each Real Estate property.
What is a "listing"?
A listing is a property or properties available for sale or rent through a real estate platform (online or offline)
The energy labels show how much energy is required to maintain a certain volume of living space for a year and depends mainly on three factors:
How big is the property and how many people live in it?
How well insulated is the building?
What type of heating is in place?
This is the result distribution of the listings found on Homegate: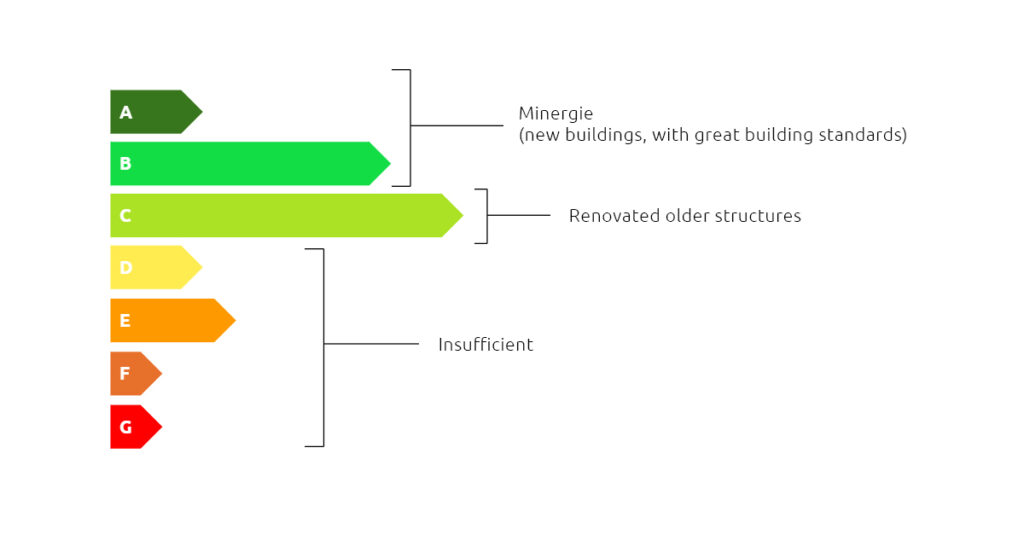 Only buildings with a label of A or B can be considered as "sustainable", so there is still a lot of work to be done.
In terms of CO2-emissions, results are more negative. More than 40% of homes are still being heated with oil and almost 30% with gas. Renewable energies make up less than 25% of heating types.
But what can we do with this information? During the Hackathon, the engineering teams enriched the listings with this newly acquired data. They added information about heating, energy labels, and general efficiency right into every listing so potentially interested parties can easily access it.
The goal was to create more transparency for home seekers and raise awareness about these factors to allow for more sustainable decision-making. However, there is a lot of potential in expanding these ideas, like connecting property buyers with subsidies and services to improve insulation or exchange heating systems with a renewable type. This could make the whole process a lot easier and also potentially more affordable for new homeowners in the long run.
What did we learn from this Hackathon?
There is a lot of potential to create more transparency for users and integrate that transparency into the user journey. The Hackathon also opened up more possibilities and ideas to continuously improve our products to create meaningful experiences and drive equally meaningful change.
A big Thank You goes out to Michael Wyss and Simon Herrmann for presenting this project at this year's Digital Festival and for giving us an insight into this topic.