In a bid to stand out, our Real Estate platform decided to take a different approach to the current AI hype, harnessing the power of expressive illustrations. In this article, we'll delve into how this imaginative campaign came to life, the teams behind it, and the seamless collaboration that led to its success.
Distinguishing Through Art
ImmoScout24's new campaign aims to build brand awareness in a captivating and relatable way. The campaign employs illustrations to depict various places and buildings you would come across during the home-searching process. This campaign casts a wide net, and aims to increase the brand awareness of ImmoScout24 in the whole of Switzerland. Leveraging cutting-edge digital tools like Google algorithms and Meta, ImmoScout24 can automatically identify and reach the individuals most interested in their offerings.
Two teams within SMG RE and Group Functions played pivotal roles in bringing this campaign to life: the B2C Marketing team, led by Julia Forjan (who you might know from our previous article on Homegate's bold AI generated campaign), supported by Roberta Crippa and the Group Marketing Performance team, headed by Nagore and executed by our Performance Marketing Managers Giacomo Iotti, Imen Doula, Milica Sedlarevic and Bojan Mijic. Their collaboration ensured the campaign's success from inception to execution.
Choosing Expressive Illustrations Over AI-Generated Images
The idea of using expressive illustrations was born out of Francesco Corbino, Senior Marketing Strategist at SMG, plays a key role in Scout24 branding. He explained that this choice symbolizes the juxtaposition between AI and classic illustrations. Expressive illustrations also align seamlessly with the Scout24 corporate design. For the Swiss Scout24 brands, this campaign represents a groundbreaking moment as expressive illustrations have never been used before.
Expressive Illustrations:

From Concept to Canvas
The reference pictures used for this campaign were carefully chosen or generated with AI. This also shows how AI can support handmade art without removing the artist from the process. The creation process began with brainstorming metaphorical concepts for each house-hunting step. These steps ranged from the initial search to moving into a new home. Once the best concepts were identified, the corresponding illustrations were meticulously developed.
The collaboration with the talented illustrator, Pol Montserrat, commenced in early spring 2022. It initially involved producing illustrations for product purposes across all Scout24 brands. This collaboration intensified throughout the year, resulting in an impressive inventory of approximately 130 expressive illustrations for ImmoScout24. For this campaign, the collaboration began in late July and concluded at the end of August.
The process, from selecting reference pictures to creating a detailed briefing for Pol, relied on chosen reference images. The production of the illustrations was divided into batches, with feedback and suggestions for improvement provided after each delivery. This iterative process ensured that the final illustrations perfectly aligned with ImmoScout24's vision.
SMG: What is important to you, when you're being briefed to create such a diverse range of illustrations?

Pol: Most of the time the most helpful element is the short description. I feel the concepts to illustrate are often really iconic so the image that comes to my mind after reading the prompt is usually a good starting point.
How do you translate the "Swissness" of the objects and brand to your illustrations?
There are certain elements that I associate with this "Swissness" aesthetic and I try to incorporate them whenever I have a chance. The most significant ones, I think, are the presence of nature and a certain kind of architecture.
What is your process when going from a reference photo to the finished illustration?
It really depends on the illustration but in general I start with sketches. Once I'm happy with the composition and elements I start using ink and brushes. I usually do the same illustration many times. Every time, the brush strokes become more fluid and precise and I'm able to highlight the parts of the image that I feel are important. Another benefit of repeating the illustration several times has to do with the fact that there is an element of randomness in the process. Sometimes a textured stroke appears in just the right place or some element has the precise right weight or character. So, though digital editing I can combine some of these parts and create the final illustration.
What do you find particularly interesting when working with our Scout24 Brands – and specifically ImmoScout24?
What interests me the most is the challenge of taking a mundane subject, such as a person using a phone, or someone happy about a purchase, and creating an illustration that is rich and compelling. In the case of the recent illustrations for IS24, there was the added challenge of the subjects being a bit more whimsical than they usually are, so trying to make them fit the whole family was an interesting exercise too.
How do you make sure that each illustration – albeit with different subjects – all look and feel like they belong to IS24?
A big part of it is a consequence of using the same technique, specifically the same kind of brushes and paper. But there are also certain conscious decisions that I make during the process that lead the illustrations towards the IS24 style: a certain kind of framing, composition and characters.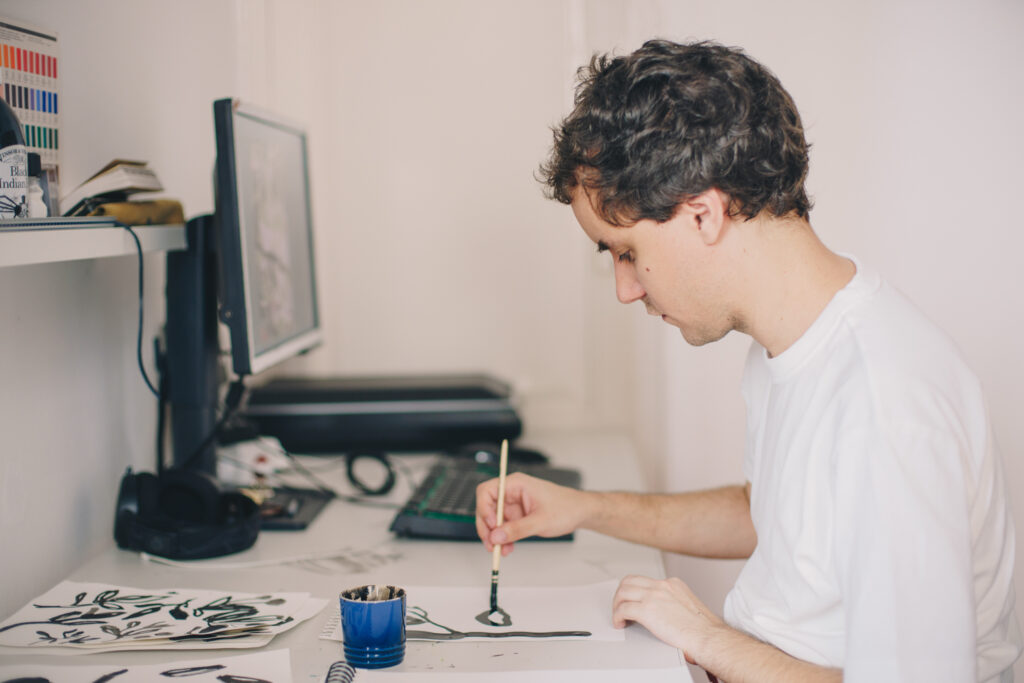 A Treasure Trove in Our Digital Vault
All the expressive illustrations created for the Scout24 brands, including ImmoScout24, are available in our digital asset management system. These versatile illustrations serve multiple purposes, such as integration into Scout24 platforms, marketing materials, and product landing pages.
The illustrations created by Pol, alongside catchy campaign titles take center stage in the campaign's visual elements.The illustrations primarily use black, ink-like lines, which offer the opportunity to strategically introduce color for highlighting keywords and incorporating ImmoScout24's brand colors into the artwork.
The Power of Collaboration
ImmoScout24's brand awareness campaign, brought to life through expressive illustrations, showcases the company's commitment to creativity and innovation. The collaborative efforts of the B2C Marketing team and Group Marketing Performance team have been instrumental in this campaign. They, along with illustrator Pol, have created a campaign that effectively engages a wide audience, leaving a lasting national impression. As these illustrations continue to grace our platforms, ImmoScout24's brand will undoubtedly continue to thrive and inspire.