Dieser Artikel ist nur auf Englisch verfügbar
Wir arbeiten daran, alle unsere Artikel so schnell wie möglich zu übersetzen.
A Glimpse into the Workshop
Our recent AI workshop for the ELT was undeniably triumphant. Primarily, our aim was to cultivate knowledge sharing and inspire the ELT to grasp the deep-reaching impact of Artificial Intelligence on SMG's future achievements. We achieved this through an amalgamation of captivating presentation demos and immersive, hands-on sessions.
At the heart of our workshop were our dedicated teams from Data, Marketing, Communication, Cyber Security. They eagerly embarked on a deep dive into the world of AI initiatives right here at SMG, and the results were nothing short of extraordinary.
Firsthand Encounters with AI Magic
During the workshop, our teams embarked on a journey that began with a captivating opening led by our host & Director Data , Andreas Gertsch Grover. The event kicked off with a presentation by Christian Ternes (Head of Technology & Data at Finance & Insurance), delving into the world of AI and its application in our industry. As the day unfolded, we were treated to a series of impressive presentations and demos, each shedding light on how Artificial Intelligence is revolutionizing various aspects of our business.
Julia Forjan (Head of Consumer & Private Customer Marketing at Real Estate) showcased the power of AI in marketing. She demonstrated how it can generate content tailored for personalized campaigns. Marcel Schumacher (Data Product Manager at Real Estate) introduced us to AI's role in real estate. He did so by illustrating how AI-driven insights and recommendations have been instrumental in shaping the success of our marketplaces.
The team from IAZI, led by Nicola Stalder, provided an engaging presentation and demo. They offered a glimpse into how Artificial Intelligence can transform property descriptions. As a result, they gain appealing and streamlined listings. Marta Andreoni (Head of Design) enlightened us on AI's influence in the automotive industry, highlighting the strides made in the sector.
Laure Fouilloux (Director Data, General Marketplaces) and Shilpa Hebbur Rangaswamy's AI demo in e-commerce highlighted improved customer experience and sales. Meanwhile, David Balaban (Data Product Owner) illustrated how AI simplifies complex data for clearer insights and more informed decision-making.
Our exploration of Artificial Intelligence continued with a deep dive into Google Trends. This deep dive was guided by Christian de Mont, Enterprise Account Executive at Google Cloud. In this, he gave us a glimpse of the broader landscape and what lies ahead.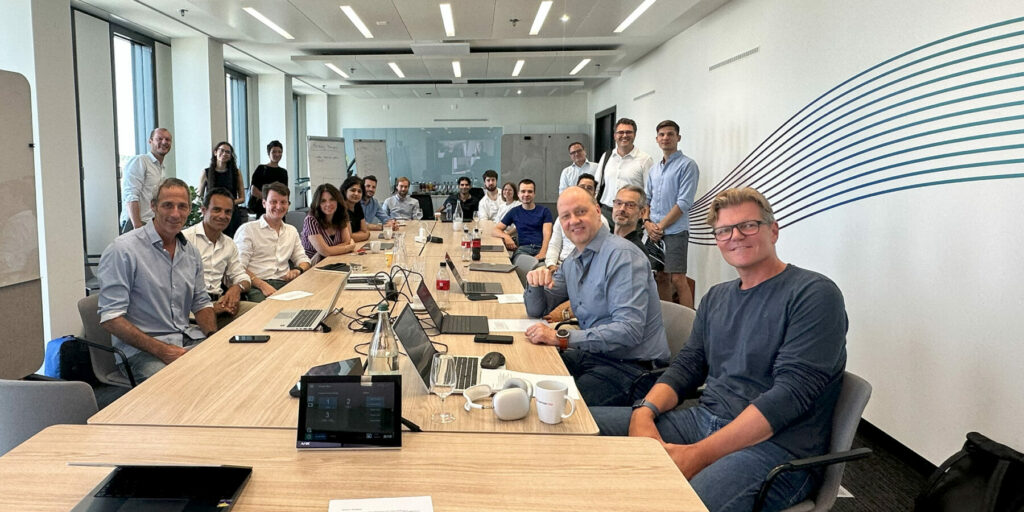 In the afternoon, a hands-on segment allowed attendees to witness Artificial Intelligence in action. To start, IAZI's Consumer Perspective demonstrated the enchantment of AI in the marketplace. Next, the Business Customer Perspective provided insights into how real estate becomes more accessible and efficient. Moreover, the Real Estate team assisted in determining our roles, whether we are seekers or agents in this AI-driven world.
Google Cloud's GenAI App Builder session fostered collaboration in crafting cutting-edge AI solutions. Additionally, the Chat GDT Proof of Concept unveiled the untapped data potential. Furthermore, Google's Data Monetization session emphasized AI's capability to transform data into a valuable asset. Lastly, GitHub Copilot ushered us into the realm of AI-powered pair programming.
As the workshop unfolded, we realized how AI can work its magic, transforming our operations and reshaping our business approach. Following a captivating morning of learning and exploration, it was time connect during the lunch and question session. Amidst sandwiches and salads, we inquired about the demos and engaged with creative minds at this event.
Merely scratching the surface, the potential of AI appears boundless. Our teams were ecstatic to witness how this technology can transform our operations throughout diverse departments.
Looking ahead, we're not only reflecting on our prior initiatives; we're also mapping out a path to enhance our AI expertise in the future. A few remarkable projects that have been trialed and proven encompass automated translations to enhance communication efficiency and consistency. Furthermore, we're delving into AI-Based Content Creation for marketing, advertising, and platform materials in the automotive sector.
Real Estate is not left behind, with a proof of concept (POC) for identifying agent or seeker contact form requests based on content in development. Meanwhile, our General Marketplaces are doubling down on AI to identify potential fraudulent users and articles, thereby enhancing safety and security.
Internally, we're fostering innovation through hackathons, exploring and adopting generative AI tools for marketing, and deploying AI to create region-specific descriptions for enhanced organic search traffic. Our cybersecurity teams are on high alert, using AI to identify abnormal network traffic and potential threats.
We owe a big thank you to Google for their unwavering support throughout the workshop. Special thanks go out to Corinna Lopez, Christian de Mont, Samuel Kruklis, and Samia for their guidance on intriguing AI topics like Chatbots and Data Monetization with Gen AI. Their expertise added immense value to our learning experience. And of course our internal Workshop organiser and facilitator, Eimy Raygada who is pushing this topic forward with great passion and dedication.
In conclusion, the AI workshop for our Executive Leadership Team was a resounding success, and it's just the beginning. Stay tuned for the extraordinary transformations ahead as we harness the immense potential of AI to redefine our operations and elevate customer experiences to unprecedented heights at SMG Swiss Marketplace Group.
The future is bright, and we're excited to embrace it with open arms. Together, we'll unlock the full potential of AI and shape a future that's smarter, more efficient, and incredibly promising.